I've been looking for an excuses to bust this video out for quite some time. I find the occasion to be sad, however, as Wales Rugby superstar Shane Williams has played his last match. As a 'man' I find these moments emotional, mostly because as 'men' we are conditioned to be made of tougher stuff. One of the universally acceptable situations for grown men to cry in, however, is the death/retirement of a sports hero. And so I did.
I came to Rubgy late in life. My first introduction was in Ireland watching Wales win the Six-Nations tournament in 2005 and what a series that was. Shane Williams shone brightly and even though I was a total noob to rugby I could tell he was a superstar. I enjoyed watching him play, and cried along with him in his
emotional good-bye
. The fact that Wales lost was overshadowed by his game-ending score in typical Williams fashion. What a way to finish a career.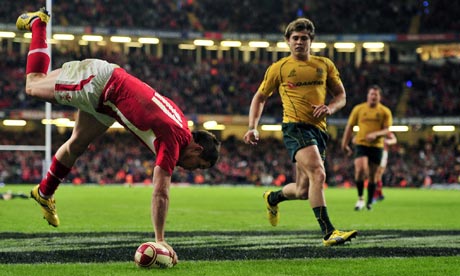 If you gotta go, do it in style.
The following video is the most exciting final 5-minutes of a rugby match I have ever seen. It is the dramatic end to a Wales-Scotland match in the 2010 Six Nations which saw Wales come from behind to absolutely rob Scotland of the victory. If you follow rugby and haven't seen this you will be astounded. If you don't know rugby, it may be hard to realize how utterly impossible this should have been. Either way, Wales pulled off the victory, and I'll give you just one guess as to who scores the final, over-time try to seal the come-from-behind victory.
Thank you Shane Williams, and good luck!